Press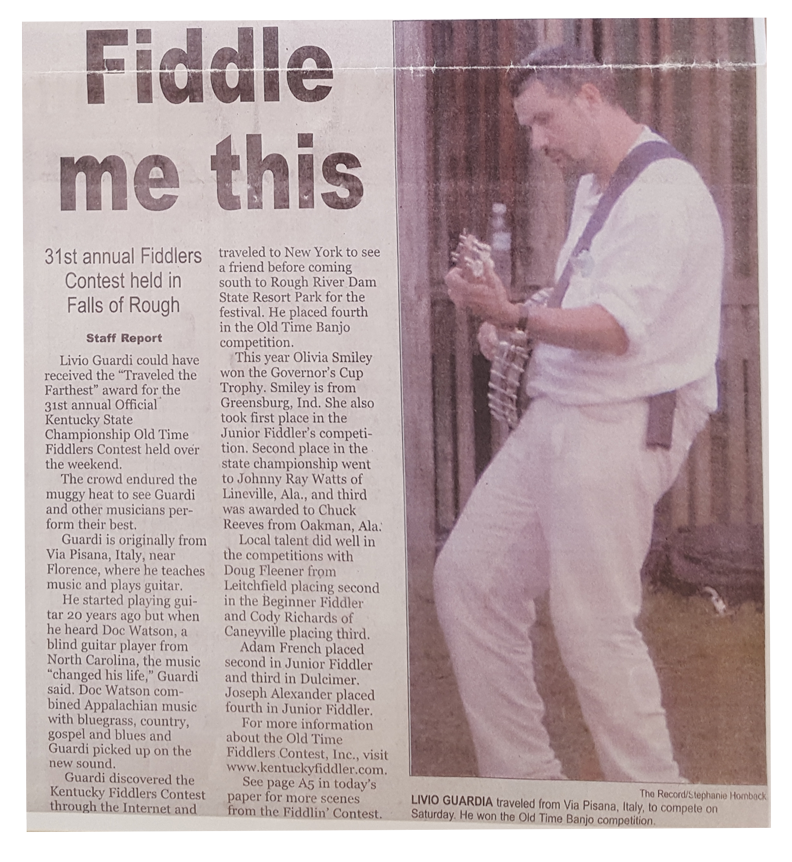 "Livio Guardi, che vive la musica con la stessa passione e ogni anno percorre le strade degli Stati Uniti alla ricerca delle sonorità giuste."
Michele Manzotti –"La Nazione" Firenze 31 marzo 2013, a proposito del cd "meeting: Livio Guardi e Pietro Sabatini", 2013 (Banbou records).
---
"His release, Run Away, includes several energetic clawhammer banjo originals… and more."
"Banjo Newsletter", April 2010.
---
"Livio Guardi, un vero one-man band che merita rispetto…il meglio però lo esprime nei brani strumentali dove la sua tecnica, unita al feeling, si fa ammirare…"
Andrea Trevaini da "Il Buscadero", Gennaio 2010.
---
"Questo di Guardi è un album davvero riuscito: nell'alternanza di brani originali e riletture, Livio riesce a inserirsi in un preciso solco stilistico, dando uniformità al tutto…"
Sergio Staffieri – recensione di "Run Away", 2009 (Waterbound) "Chitarre", 2009 Giugno.
---
"…Livio Guardi ha eseguito "Bella Ciao" al banjo; una versione particolare che gli ha consentito una straordinaria accoglienza da parte del pubblico…"
da "Brescia Oggi" Settembre 2009 a proposito del "Franciacorta festival 2009".
---
"Livio Guardi traveled from via Pisana, Florence, Italy, to compete on Saturday. He won the Old Time Banjo Competition".
a proposito della gara di banjo, recensione del giornale: "The Record", Thursday, July 21, 2005.
---
"Diomedee riesce a riorganizzare tutte queste influenze in una veste più matura…Un disco comunque godibile."
Andrea Carpi – Recensione del CD "Diomedee" per "Chitarre" Dicembre 2003.
---