Biography English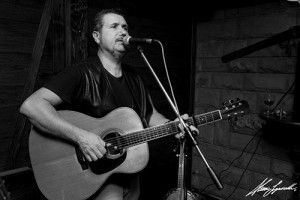 A multi-instrumentalist and songwriter, Livio Guardi has long been a beacon of the Italian acoustic music scene, infusing his passion for American roots music – folk, country, and bluegrass – with the traditional music of his Mediterranean homeland.
With five-string banjo, guitar, harmonica, mandolin, and other stringed instruments, Livio performs regularly throughout Europe and the US, both as a solo act and with other noted artists such as singer-songwriter Tom Russell, Tao Todriguez-Seeger (the grandson of Pete Seeger), and the noted mandolinist Tony Williamson.  His many recordings both as solo and collaborative works, includes the ones with Italo-American guitarist Wilson Montuori, Pietro Sabatini, and the "Spaghetti Grass" band.
Also a teacher of various stringed instruments such as the acoustic guitar (Fingerpicking,  Flatpicking, Slide, Open Tunings), the five string banjo (clawhammer, two and three finger picking), the mandolin, harmonica and ukelele.
He has released 9 CD's, as a solo Artist and as a Duo (with Wilson Montuori and with Pietro Sabatini), published 2 Instructional Books, the first one "Mediterranean Banjo", where it features traditional and original tunes (CD enclosed) purposely transcripted for the Five String Banjo, so far the one and only text ever written on this subject.
The second book, entitled "Traditional and Contemporary Fingerpicking Guitar" (also with enclosed CD), is a compilation of Guitar Tunes that draw  from various styles, such as Old-Time Country Music, Blues, Folk Music, Celtic, Jazz and Contemporary Sounds.