Biography English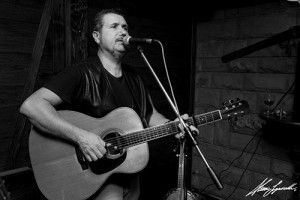 LIV GARD aka Livio Guardi was born in Florence, Italy, where he still lives and teaches music. He has been singing and playing guitar, five string banjo, mandolin and other folk instruments for about twenty years. Liv has been greatly influenced by American Folk and Blues as well as by Celtic music. He also writes many original tunes which seem to bridge the gap between the musical styles of the Mediterranean and those of Northern Europe. Liv Gard has toured estensively throughout United States, Italy, Germany and Japan, playing in such diverse situations as venues, festivals, TV Networks, radio programs and clubs. Recently featured in an article on the "Bluegrass Europe" 2015 Summer Issue Magazine, (official European Bluegrass Magazine), Liv is now becoming recognized on the international circuit as a one of a kind One Man Band.
Liv has recorded and toured for many years with New York-based musician Wilson Montuori, releasing 3 CDs of original and traditional tunes and one of his own, entitled "Run Away"; the latest CD, "Meeting, Livio Guardi, and Pietro Sabatini" (Banbou Music), is a project where the two share a common ground within American Folk and Irish Music.
In 2006 He joined the the annual "Kentucky Fiddler's Championship" (Leichfield, Ky), where he got two prizes playing banjo as a solo act and with the Chuck Reeves band.
Liv (as Livio Guardi and Wilson Montuori), was also featured on the Italian compilation CD "Country in this Country 2″ (MAP Records).
He has performed as a side player (guitar and mandolin) with noted country songwriter Tom Russell, touring Italy," Buscadero Festival", Holland and Belgium.
Besides, Liv Gard has had the pleasure to tour and share the stage with such musicians as Tao Rodriguez-Seeger (Pete Seeger grandson), the band "Crooked Still", Beppe Gambetta, John Gorka, Roberto Dalla Vecchia, Kevin Burke and Peter Lang, among the others.
As a teacher of various stringed instruments (guitar, banjo, mandolin), He has organized workshops and concerts with noted Fret wizards such as Russ Barenberg (2015), Beppe Gambetta (2017) and Tony Williamson (2016 and 2017), sharing the stage playing with these musicians.